HPDE Track Day #1:
Barber Motorsports Park - Tuesday, July 26, 2022
Address: 6040 Barber Motorsports Pkwy, Leeds, AL 35094
High-Performance Driver Education (HPDE) Event at Barber.  The track is approximately 25 minutes from the host hotel in Birmingham.  Barber is a challenging and safe road course with exciting elevation changes and open runoff spaces.  The HPDE event at Barber is an opportunity to work with experienced instructors where you'll explore the limits of your car and driving skills in a safe and controlled environment.
The day includes a variety of experience levels (Novice through Advanced), classroom, and in-car instruction with an emphasis on safety.  There is something for everyone at Barber.  A food and beverage concessionaire will be at the track to provide for your needs.  There will be a photo of participants during lunch (without cars).
What is an HPDE?
HPDE means "High-Performance Driver's Education" - a format for a track day that includes instruction from experienced track-day and/or racing drivers who help hone your skills while also helping to keep you and your car safe. Novice through Advanced participants can increase their skills while enjoying the thrill of driving on a road-course.
As with all motorsports activities, there is always a level of risk and participants will be required to have their vehicles tech-inspected prior to participating/arriving at the event and proper safety equipment/gear will be required.
HPDE Track Day #2
Talladega Gran Prix Raceway - Friday, July 29, 2022
Address: 46 Pilgrim Ln, Munford, AL 36268
A second on-track road-course experience will be at Talladega Gran Prix Raceway (Little Talladega) - a tighter course with fewer amenities, but a great value on the ZCON Motorsports menu. More details to come!
Autocross
Barber Motorsports Park -
Thursday, July 28 2022
Address: 6040 Barber Motorsports Pkwy, Leeds, AL 35094

Enjoy a spirited Autocross challenge and compete with fellow ZCON guests. Hone your driving skills while maneuvering through a tight/technical coned-track! This will be your opportunity to test those suspensions and tires!
What is Autocross?
Autocross is a motorsports activity driving your sports-car through a cone-based course competing against the clock to improve your time.
Classes (for trophies) tend to include categories for Stock, Modified and Race-Prepped vehicles.  We also have "gag" trophies as well.
If you're not sure about an HPDE and running at higher-speeds, the more technical nature of Autocross may be just what your competitive spirit may require.
Drifting
MidPond Raceway - Thurs., July 28 2022

Address: 6230 Co Rd 26, Columbiana, AL 35051
MidPond is a tightly curved track that heralds back to its days as a karting race track.  The onsite space for spectating is limited...as is the participation (35 participants maximum).  This has been on the schedule for a variety of Drifting competitions.
Potential participants read the following Driver's Packet and Track Policies & Procedures documents (to be posted by registration launch).
What is Drifting?
Drifting was popularized with it's Japan roots as a method or technique of oversteering and creating a loss of traction...while maintaining control and moving the car through corners on a race-course.
ZCON drifting started with 2010 drift-exhibitions, but in recent years now offers a competitive motorsports menu for those looking to drift during ZCON week.
Karting
Autobahn Karting - Tuesday, July 26 2022
5960 Greenwood Pkwy, Bessemer, AL 35022
Just like the Autobahn in Germany, there are no speed limits on the Autobahn Indoor Speedway. Go as fast as you can on Autobhan's strategically engineered race track and have the time of your life while you are at it.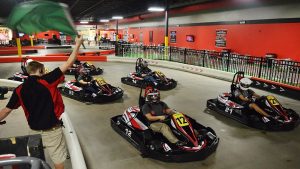 Autobahn is not kidding when they say that their go-karts can reach speeds up to 50 miles per hour. Learn how to ease into the turns of the track, and accelerate your way out of them. You don't have to be a grown-up to enjoy the high-speed go-karting race track at Autobahn Indoor Speedway.
Attention All Registered Motorsports Participants! 
If you have registered for ANY of the scheduled Motorsports Events, you must register yourself at the following MotoSportReg URL link below...
This is a requirement in order to participate!