ZCCA Judged Car Show
Location: The Oasis on Lake Travis – 6550 Comanche Trail, Austin, TX 78732

TIMES UPDATED: Towels down at NOON.
The 2017 judged car show will be held at the Oasis Restaurant on beautiful Lake Travis. This is the same site where Austin's monthly Cars and Coffee is held and is a famous destination point for many visitors that come to the city. It is known for its fantastic views of Lake Travis, particularly at sunset, as well as its delicious Margaritas.
It is approximately a 25 mile drive from the Hilton Hotel and should take about 45-50 minutes to drive there at this time of day. The formal judging will begin at NOON, which should allow entrants ample time for any required clean up of their car, but the gates will open at 10:00 AM for those who would like to get there early.
We are planning to group cars by model (ie S30, S130, etc) and volunteers will greet you at the entrance to ensure that you park in the appropriate spots. Once parked, you will need to find your way to the registration tent where you will be provided all of the necessary documents for the show. Formal judging will begin at noon and is expected to finish at 6:00 PM.
It is strongly suggested that you bring sun screen as the Texas sun can get very intense this time of year. The Capitol Z of Texas club will be providing complimentary water to all attendees for the duration of the show but you are also free to take advantage of the facilities that are available from the Oasis as well. The restaurant usually opens at 11:30 AM each day.
Following the conclusion of the car show, we will also be hosting an evening buffet dinner at the Oasis. This optional event can be purchased at the time of registration and will be priced at $40 per person. The buffet dinner will be held in the Top of the Oasis room which provides commanding views of the lake. The "Fajita Feast" buffet includes chile con queso as well as chips and salsa for appetizers, marinated skirt steak, grilled chicken breast, and Shiner Bock braised pork for the main entrée, and will be served with tortillas, Spanish rice, Charro beans, Pico, cheese, sour cream, lettuce and guacamole. Complimentary coffee, iced tea and soda will also be provided. In addition there will also be a cash bar for those who would prefer one of the famous Oasis margaritas or any other alcoholic drink you may desire.
The layout for The Oasis is shown below: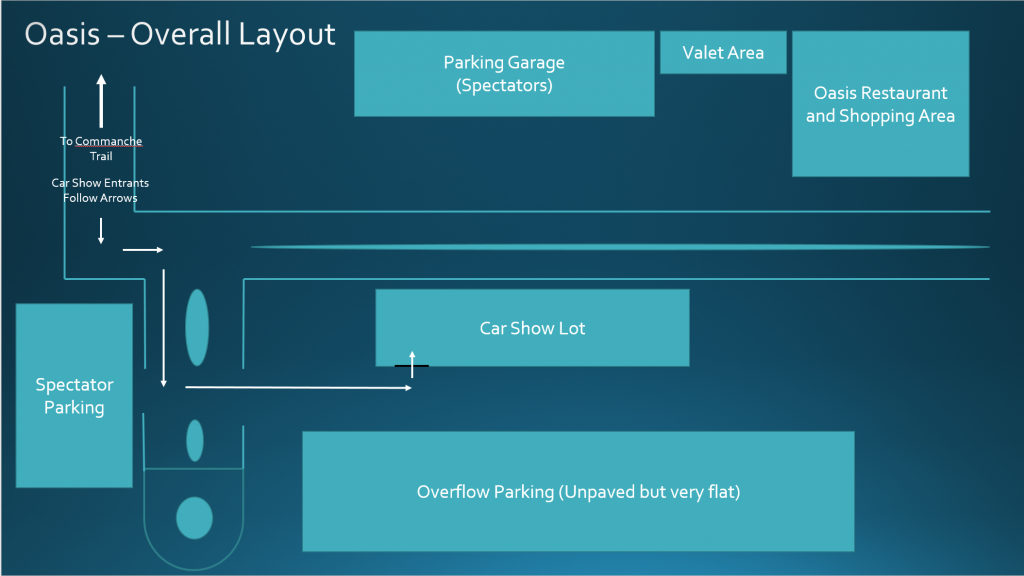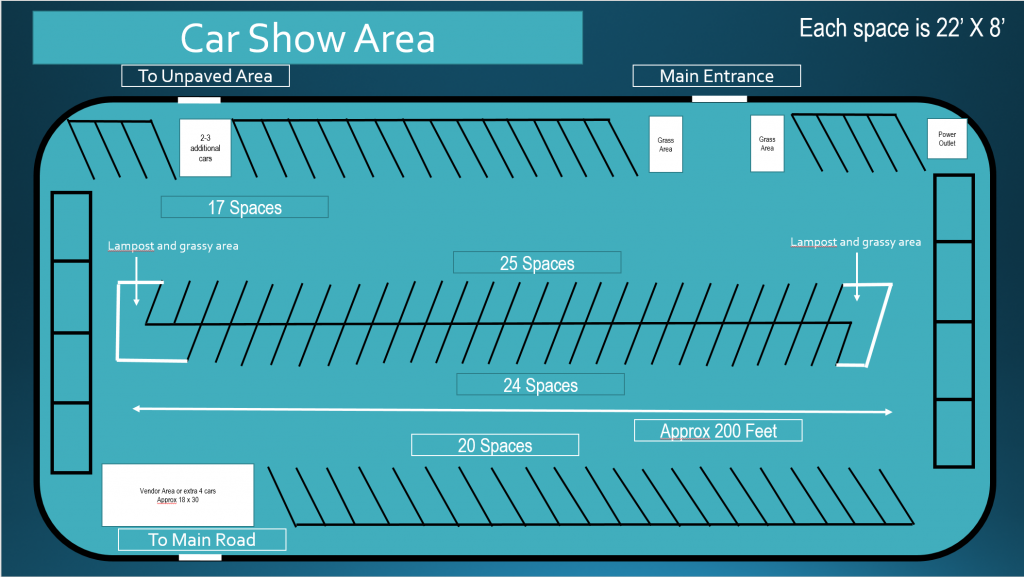 Map to The Oasis: