Road Course Track Day
Willow Springs International Raceway - Thursday, August 3, 2023
Address: 3500 75th Street West, Rosamond, CA 93560
High-Performance Driver Education (HPDE) Event at Willow Springs.
Willow Springs International Raceway is a super-fast 2.5-mile / nine-turn road racing circuit, patterned after the great courses and road racing traditions of Europe, and is unchanged from its original 1953 configuration. With its substantial elevation changes and high average speeds, Willow Springs is one of the fastest and most challenging tracks in the country. Also known as the Fastest Road in the West, this track is one of the safest road courses in the world, despite its high velocities. Cornering speeds on this track range from about 70 mph to over 170 mph, with straightaway speeds nearing 200 mph possible with fastest cars and motorcycles.
With its long and short straight-aways, tight corners, and long sweeping turns, there aren't many road courses in the world with spectator viewing like Willow Springs. Guests can see almost the entire racecourse from just about anywhere, including the many trackside camping areas. Spectator amenities include two full-service diners with full bars, a well-stocked gift shop, plenty of spectators seating and parking modern rest rooms, and outstanding viewing areas. Large viewing areas are available for RV parking and camping, including several full hookups for trailers and motor homes. Racer amenities include several enclosed garages available for use by competitors and testers, with racing fuel and tire services available at the track daily.
The track is approximately 1.5 hours from the host hotel in Ontario.  Willow Springs is a challenging and safe road course with exciting elevation changes and open runoff spaces.  The HPDE event at Willow is an opportunity to work with experienced instructors where you'll explore the limits of your car and driving skills in a safe and controlled environment.
The day includes a variety of experience levels (Novice through Advanced), classroom, and in-car instruction with an emphasis on safety.  There is something for everyone at Willow Springs.  A food and beverage concessionaire will be at the track to provide for your needs.  There will be a parade lap and photo of participants during lunch.
PLEASE NOTE THAT A $10 GATE FEE WILL BE CHARGED TO EACH INDIVIDUAL ENTERING THE WILLOW SPRINGS INTERNATIONAL RACEWAY COMPLEX. THIS FEE DOES NOT GO TO ZCON, IT IS RETAINED BY THE TRACK.
What is an HPDE?
HPDE means "High-Performance Driver's Education" - a format for a track day that includes instruction from experienced track-day and/or racing drivers who help hone your skills while also helping to keep you and your car safe. Novice through Advanced participants can increase their skills while enjoying the thrill of driving on a road-course.
As with all motorsports activities, there is always a level of risk and participants will be required to have their vehicles tech-inspected prior to participating/arriving at the event and proper safety equipment/gear will be required.
Autocross
Irwindale Speedway
Friday, August 4, 2023
Address: 500 Speedway Drive Irwindale, California 91706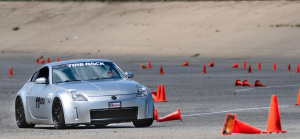 Enjoy a spirited Autocross challenge and compete with fellow ZCON guests. Hone your driving skills while maneuvering through a tight/technical coned-track! This will be your opportunity to test those suspensions and tires!
What is Autocross?
Autocross is a motorsports activity driving your sports-car through a cone-based course competing against the clock to improve your time.
If you're not sure about an HPDE track day which requires running at higher-speeds, the more technical nature of Autocross may be just what your competitive spirit may require.
Drifting
Willow Springs: Horse Thief Mile and The Balcony
Thursday, August 3, 2023
   
Address: 3500 75th Street West, Rosamond, CA 93560
PLEASE NOTE THAT A $10 GATE FEE WILL BE CHARGED TO EACH INDIVIDUAL ENTERING THE WILLOW SPRINGS INTERNATIONAL RACEWAY COMPLEX. THIS FEE DOES NOT GO TO ZCON, IT IS RETAINED BY THE TRACK.
What is Drifting?
Drifting was popularized with it's Japan roots as a method or technique of oversteering and creating a loss of traction...while maintaining control and moving the car through corners on a race-course.
ZCON drifting started with 2010 drift-exhibitions, but in recent years now offers a competitive motorsports menu for those looking to drift during ZCON week.
Drag Racing
Irwindale Speedway Dragstrip
Friday, August 4, 2023
Address: 500 Speedway Drive Irwindale, California 91706
Irwindale Dragstrip offers a 1/8th Mile NHRA sanctioned dragstrip that was resurfaced in 2018 with a concrete starting box and featuring a 1/2 mile run-out.
 
Karting
K1 Speed Ontario
Tuesday, August 1, 2023
Address: 5350 Ontario Mills Pkwy, Ontario, CA 91764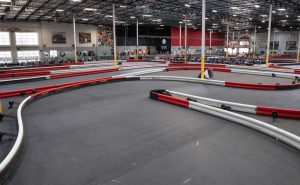 Once home to a major motorsport venue in the 1970s, Ontario Motor Speedway, Ontario is now home to one of the best indoor go-karting locations in the country: K1 Speed, Ontario.
Our 85,000-sq. ft. location is home to not one, but two indoor asphalt courses for double the occupancy and even less waiting. Track 1 offers a challenging series of technical corners, while Track 2 delivers a variety of fast and slow corners that is perfect for the novice or child. The K1 Speed, Ontario location also offer two distinctly different meeting rooms – one with leather couches for a laid-back social gathering, or a traditional meeting room with tables and chairs for parties and company events. Our on-site Paddock Lounge restaurant offers delicious food and refreshing beverages for all ages, while our video arcade and tabletop games keep the entertainment going.
Attention All Registered Motorsports Participants! 
If you have registered for ANY of the scheduled Motorsports Events (aside from the Karting event), you must register yourself at the following MotoSportReg URL link below:
This is a requirement in order to participate as a driver!